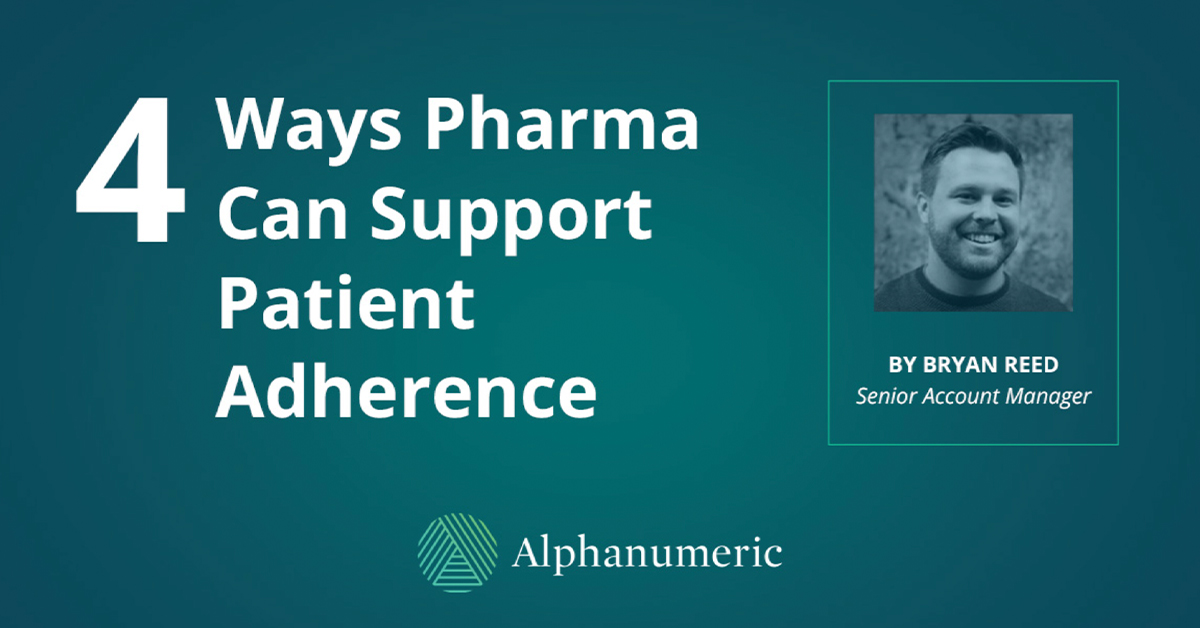 Ensuring Optimal Patient Outcomes Requires Empathy, Education, and Collaboration from Patients, Health Care Providers, and Pharmaceuticals
---
Getting patients to start and maintain a course of treatment can be a daunting task. And with multiple links in the chain – from doctors and pharmacists to the patients and their caregivers – it can be difficult to influence the outcome of a treatment plan without direct contact.
But establishing a link between patients and pharmaceutical providers can help improve patient outcomes and encourage medication adherence.
It's estimated that adherence to chronic medications hovers around 50% overall. This not only negatively affects the health of the individual patients, but has ripple effects that spread throughout the healthcare industry. A report published by US Pharmacist notes that, "Nonadherence can account for up to 50% of treatment failures, around 125,000 deaths, and up to 25% of hospitalizations each year in the United States."
Or, to quote former Surgeon General of the United States, C. Everett Koop, M.D.: "Drugs don't work in patients who don't take them."
So how can pharmaceutical providers support patients when prescribed their products? Here are four ways you can approach patient adherence.
1. Understand the Factors that Negatively Influence Adherence
In order to support patients and encourage them to adhere to their medication regimen, it's important to understand the reasons why patients don't take their medicine.
For instance, according to a CVS Caremark survey, approximately one-third of patients choose not to fill a prescription because of the cost. Access to a pharmacy is another major hurdle many patients face in acquiring their medications.
If a patient starts a treatment regime there are more reasons they may stop their treatment. Medication nonadherence, or poor adherence comes into play when patients start to feel better and decide they don't need the medication anymore, or, they might not feel better and decide the medication isn't working for them. Perhaps they're worried or confused about negative side effects, or they've lost track of their refills.
These are only some potential obstacles to adherence, and should be addressed in collaboration between the patient, their caretaker(s) and their physicians, but the pharmaceutical companies can play a role here too. Understanding what prevents patients from following through on their treatment can – and should – inform your strategy in providing patient support and assistance.
The Alphanumeric Patient Support & Adherence Platform helps you provide support that is patient-focused. We dive into your data to understand what your patients and HCPs are saying about their experience with you, where they need the most support (which therapeutic area, which drugs, which information about the drug--safety, affordability, access, support), personalization preferences (channel, language, automation or live agent, etc.). Using those insights, we are equipped to make informed decisions that will drive adherence and improve patient outcomes.
2. Provide Consistent and Empathetic Support
Providing a point of contact for patients and their caregivers and health care providers helps to ensure that no information is lost in translation, or shifted by the biases or misunderstandings of individuals along the way. No one understands your products better than you, and providing a resource to answer questions, direct customers to resources for financial support, refill reminders, delivery services, and other resources can help make it easier for patients to stick to their treatment plans.
But to make a successful program, it's vital that patients feel understood and cared for, not judged for any circumstances or behaviors that make adherence more difficult. Understanding the challenges patients face can help you provide the best information, such as how to mitigate side effects, manage potential stigma, and involve friends and family in their care. Patients need compassion and Alphanumeric knows how to drive adherence while ensuring patients feel taken care of.
3. Proactively Connect with Patients
Effectively encouraging treatment adherence goes beyond just waiting for patients to contact you for information. Tailored outreach, such as refill reminders or touchpoints at specific milestones, can help ensure that patients (who've opted into the program) have regular nudges to keep them on their treatment path. Involvement with prescribing physicians or pharmacies can also help encourage patient involvement and improve adherence.
Finding processes and opportunities to automate are part of the "shift left" culture and one of the essential features of our Patient Support & Adherence Platform. Constantly improving and searching for efficiencies reduces friction and improves patient adherence.
4. Focus on Improving Patient Outcomes
Ultimately, the goal is to help your patients and customers see better health outcomes. The benefits to individuals who stick with their treatments are clear – they'll spend less time in the hospital, enjoy a better quality of life, and in many cases enjoy a longer life as well. But the benefits to the healthcare system and your business are far-reaching, as well. By focusing your efforts on adherence and improving patient outcomes, you'll be contributing to a more effective and efficient system of care overall. Read more about the three essential ingredients in our Patient Support and Adherence Platform in a blog by our CEO, Randy Trice.
And, it doesn't hurt your business, either. A summary of a report by Credit Suisse in Healthcare Finance underscores the notion that "A more concerted effort by pharmaceutical companies to drive medication adherence could help improve outcomes, lower overall healthcare spending and also help pharma's sales growth and margin profile."
That compound benefit is something we've seen realized first hand.
Putting your effort toward helping patients start and maintain their treatment for the long-term is a rare scenario that benefits everyone involved.
Alphanumeric has helped many of our clients enhance patient support and adherence by supporting both patients and HCPs, wherever they are in the treatment journey. Powered by knowledge, fueled by digital transformation and innovation, the Alphanumeric Patient Support & Adherence Platform demonstrates measurable improvements in patient outcomes – and delivers significant business value to our pharmaceutical partners.
Let us help simplify your patient journey and automate essential tasks, and remove adherence barriers. Explore Alphanumeric's patient support and adherence solution for more information.