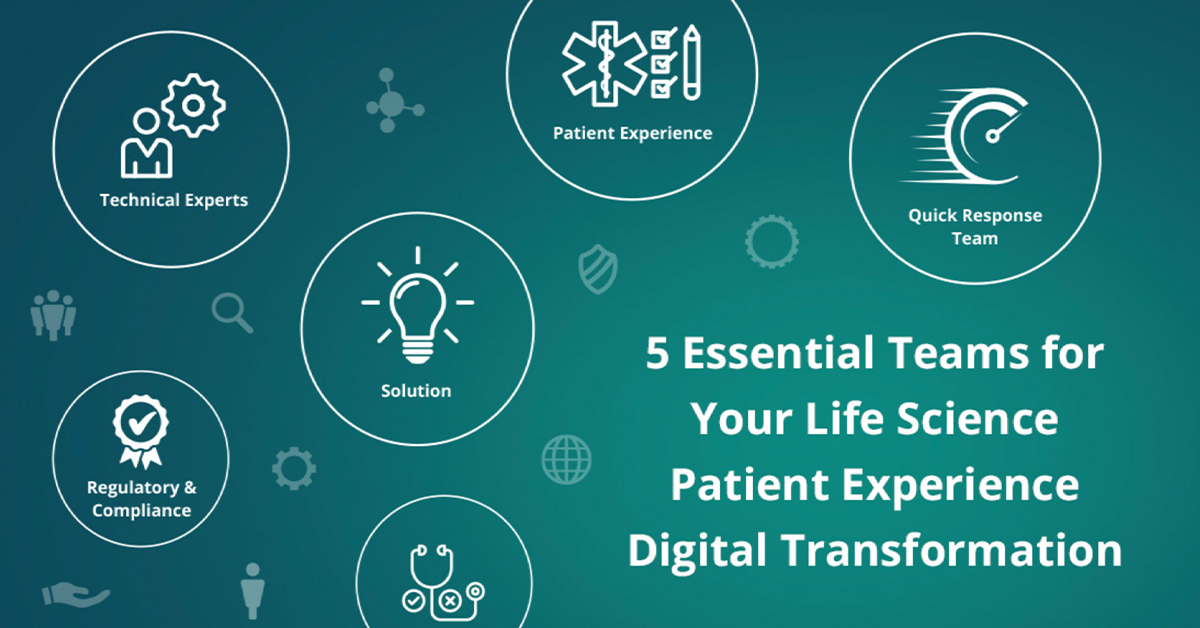 Digital transformation starts with a vision. But no vision ever comes to fruition without a detailed roadmap that gets you to the destination. As a change driver in your organization, it's your responsibility to put together a team that provides the expertise and momentum to implement your vision and make the change you seek.
At Alphanumeric, we know teamwork is essential in any digital transformation. But who should be on your life science patient experience digital transformation team? If you make the wrong choices – or don't include the appropriate stakeholders – your vision could end up dead in the water. We've also seen companies start with a false sense of confidence, which leaves them unprepared for those inevitable obstacles well into the journey.
Team #1

- Patient Experience - Who Consumes Your Data?
While it's common for conversations about digital transformation to focus on technology, we think that all transformation should start with your desired destination, and usually it's the consumers of your data who are closest to your organization's strategic objectives, who consume your data. They make strategic decisions about the insights they can glean from that data. They are the people the transformation will serve the most, because they have a direct impact on your organization's strategic initiatives.
Your first set of stakeholders should be people whose focus is patient experience. As you know, patient experience owners are critical when you want to achieve the following goals:
Identify friction in patient experience and strategize how to solve

Add a human-touch to your automation initiatives to increase customer satisfaction

Make sure your channel strategy maps to where your patients are

Decipher automation of repetitive requests

Align departments on the drivers of digital transformation and its roadmap
You'll need to include your team members whose skills augment the core technical team. They should include the following:
A CX guru with a deep knowledge of why the patient experience matters, what your patients want, and how to improve the patient experience through automation initiatives.

A brand owner who will be responsible for tying the digital transformation into your brand strategy to ensure acquisition and adherence goals can be better served by the digital transformation.

A productivity expert focused on the implementation of the digital transformation and creating standard operating procedures (SOPs) for employees that are seamless.

Digital transformation ambassador who identifies areas for improvement and works to get other employees on board with the changes.

Writers who can script chatbot dialogue while maintaining compliance to ensure patients' safety.
These team members will help you create a strategic, holistic, and practical approach to digital transformation with a focus on improving the patient experience and your business goals.
Team #2

Regulatory & Compliance - Who ensures you are following the rules?
Overcoming what some may think is a conflicting agenda between AI and compliance while creating a best-in-class digital transformation that focuses on life science patient experience requires a specialized team of experts that can ensure...
Regulatory & Compliance are a voice of requirements and approvals at every stage

Proper documentation and assurance that proposed solutions provide accurate information

Risk mitigation of any intersection between automation (e.g. chatbot) and adverse events and plans for handling such intersections

The right quality controls are in place for requirements like the separation of commercial agenda and medical affairs, data and privacy, correct fulfillment, skills and training of workforce, and reduction/elimination of dropped calls

Ensure proper testing factors and success metrics are recorded, reported, and achieved
Your Regulatory and Compliance team should include the the following people from the beginning of the project, and should remain involved throughout:
Bring in a compliance and regulatory committee early and keep them involved throughout the process. Have a risk mitigation plan to address anything important related to compliance.
A project sponsor will help navigate approval for the team's plans, including legal-compliance reviews and any necessary authorizations.
Team #3

- Technical Experts - Who Owns Your Systems and Data?
It's common for change leaders to focus first on the technical aspects of digital transformation when assembling a life science patient experience digital transformation roadmap team. As mentioned above, the strategy should come first. But without the technical know-how to transform your vision into a reality, your project won't get far.
In general, these team members will help you when the focus is on the following:
Replacing legacy systems and modernizing technology to boost performance and security

Moving operations to the cloud to reduce capital expenditures associated with physical hardware

Automating manual processes to improve reliability, find productivity gains, and drive down costs
As such, your technical team should include these members:
An architect who will be responsible for coordinating input from other team members and designing your digital transformation from start to finish in a holistic way that serves your CX goals.

Technical experts, including people who will figure out how to automate manual processes, find productivity gains, optimize spend, and modernize legacy systems.

IT people who are familiar with your existing infrastructure and can provide practical feedback about the transformation and help you decide where on-premise systems can be replaced with cloud-based computing.

Security experts, you should also include experts in cloud computing and security to ensure that your digital transformation is secure and that your data can be safely stored in the cloud.

A procurement expert to help you evaluate potential partners, solutions, and products and get you what you need to bring your digital transformation to life.
As we discussed, your life science patient experience digital transformation journey starts with a desired destination. Your technical team members are the ones who will help you map out the road to your final destination and make sure that everything is in place for a smooth digital transformation.
Team #4

- Adoption - Who Manages the Operation that Collects Your Data?
After your CX team determines your destination, and your technology team crafts your digital transformation roadmap, there is still a need to implement all of the components of your solution and get your employees and patients on board with using it. For that, you'll need an employee experience, or adoption team, whose job it is to educate your users about the new system and get them on board.
These team members will be of assistance when you focus on…
Streamlining manual processes and improving employee efficiency

Getting employees on board with your digital transformation

Training employees on new information, tech, and procedures
This team should consistent of:
An executive sponsor. Someone high-up in your management team who is a champion of the transformation and willing to put her weight behind the project to help you get it done. It's likely to be the Customer or Patient Experience owner or the owner of Operations.

One or more adoption champions. This is likely to be your Operations Manager or Team Leads, but can be people at any level who can get other employees excited about your digital transformation and tout its benefits. Think of them as internal evangelists for your project.

An adoption specialist. The adoption specialist may be someone who works for you, but in many cases it's someone from your transformation partner who has the experience to oversee a successful digital transformation and can help you navigate issues as they arise. (Alphanumeric is the adoption specialist among many of the clients that we work with on Digital Transformation of the patient and HCP experience.)
Your adoption team is critical to the success of your digital transformation. It will be its job to shepherd your organization through the transformation at every level, keeping enthusiasm high and ensuring that questions are answered promptly.
Team #5
- Solution Experts - Who Partners with Your Company?

Finally, you'll need to work closely with partners outside your organization. Some of the team members we have already mentioned may come from outside partners.

Your partners will help you when your focus is on the following:
Procuring experts to help you with your digital transformation

Identifying technology necessary for your digital transformation

Integrating new technology with your existing tech

Communicating and driving necessary changes to your vendors and other partners
On this team, you'll need...
A systems expert to oversee the technical aspects of new technology and how it will integrate and interact with your existing tech.

A project leader whose job it will be to keep the entire team on track and manage every aspect of your digital transformation from conception through completion.

A vendor liaison who can provide vital information about how your digital transformation will impact your vendors and other partners and help ensure a smooth transition.
Depending on the scope and goals of your digital transformation, you may choose to work with a partner who can take responsibility for staffing your team. If that's the case, you may want to ask for the key players listed here to be named in the contract.
Patient Experience Quick Response Team
- A small but mighty team that can respond quickly

Participation from all of the teams described so far would represent a fully mature Life Science Patient Experience Digital Transformation Team. To get started, you may want to start small. The PX Quick Response Team is a small but mighty team option that allows you to get started down the path of creating your digital transformation team without feeling overwhelmed.

It may seem like a complex task to assemble a digital transformation team, but we can help walk you through the steps to building a CX Ops team that can quickly create and release content and services for your patients and employees that will have a huge impact.

To build your CX Ops team you will need to nominate the following individuals that you feel best fit the following roles:
A sponsor to navigate approval for the team's plans, including legal-compliance and authorizations.

Knowledge owners such as content creators and developers to build an infrastructure to house information and create and publish content.

A Product owner to collect and translate requirements. If your operation supports multiple products, you'll need the product owner for each.

Operational analysts and HCPs to review insights in real time and make recommendations to improve customer and patient experiences.

Legal and compliance to ensure that you don't get too far along without key requirements.
We have created a resource, the CX Ops Framework, to guide you through creating your Quick Response team and help you set goals. This framework will help you to define your strategy and set you on the path to creating a larger team as needed.
Finding Success in your team
The success of your digital transformation is tied to the team you assemble to do the work of taking your vision and bringing it to life. As you can see, it's not a trivial task, but it's well worth the effort. The right team members will help you create a workable digital transformation roadmap, get employees on board with the transformation, and execute your plan successfully.
At Alphanumeric, we started our digital transformation journey more than a decade ago and have been helping our patients do the same ever since. The results can be seen in our near perfect CSAT and well-above industry standard NPS scores. When done right, digital transformation has the power to transform your patient and employee experience in ways that drive acquisition, adherence, and loyalty. We know how to assemble the team who can not only get your digital transformation done, but also serves as a Center of Excellence for Innovation throughout your organization.
No matter where you are on your journey--just starting out or already along your way--we can help. We can provide basic streamlining of processes, modernization of your ACD/IVR system, simple automation of routine tasks, knowledge management, systems integration (like CRM to medical information systems), full-blown artificial intelligence like patient and HCP-facing virtual assistants equipped with natural language processing.

There is not a patient or HCP experience challenge we don't care about! Put us to the test and start or accelerate your digital transformation journey by contacting us today.