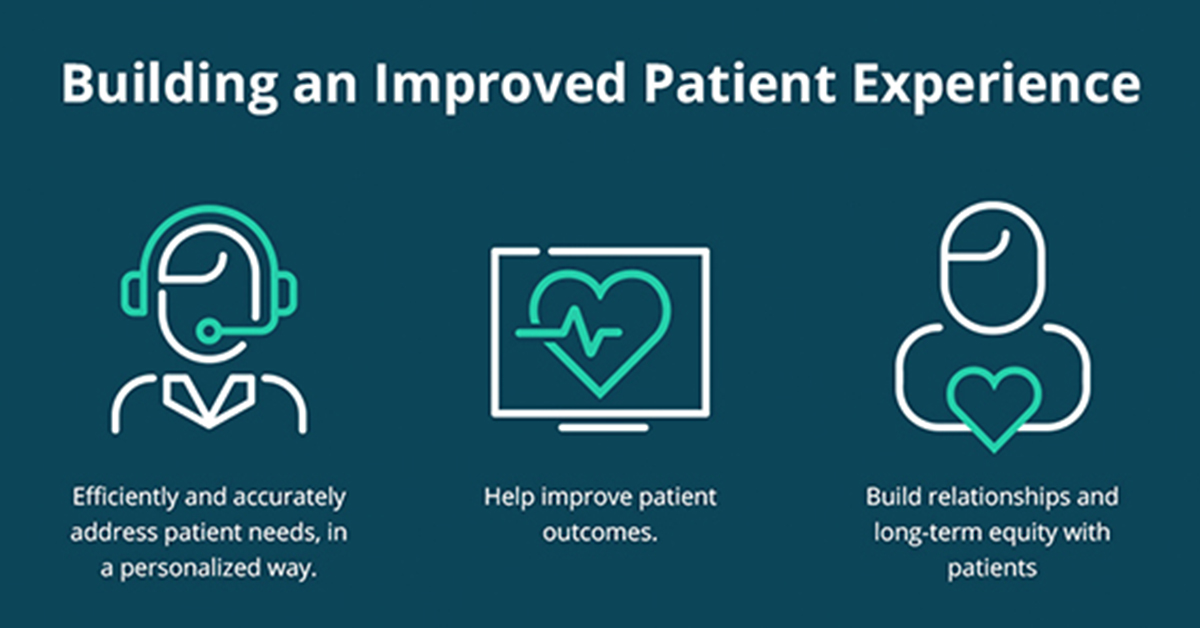 What defines a great patient experience? Is it ease-of-access, speed of resolution, or maybe communication? Regardless of what you seek, focusing on improving the patient experience opens new opportunities that allow healthcare organizations to engage and connect with their consumers. The journey toward improved patient experience and patient satisfaction begins with exploring the driving factors behind the experiences in your organization which will lead you to identify areas of improvement.
---
Data and personalized patient experience
Data doesn't lie. Since COVID-19 changed our world, we have experienced a 70% increase in the amount of data we consume and how we consume it. Whether consumers have increased use, changed platforms, or started utilizing a new service, like telemedicine, customer-centric companies across industries have flooded the market with seamless experiences that have met the new digital demands of our socially-distanced world. Life science companies are beginning to see the value in improving their patient experience in a variety of different ways.
To help meet the increase in digital demands and provide an improved patient experience, healthcare organizations must explore patient-focused solutions that can provide a more comprehensive and actionable framework for an experience that employs omnichannel communication, offers personalized insights, drives engagement, and nurtures patient relationships.
An improved patient experience program should do the following:
Efficiently and accurately address patient needs in a personalized way
Help improve patient outcomes, and
Build relationships and long-term equity with patients.
When companies prioritize patient relationships, it not only provides the patient with quality care, but also increases the lifetime value of the consumer, in turn increasing long-term profitability and growth, despite the ebbs and flows of patient care stages and cycles.
Measuring and reporting patient experience
Patient loyalty and patient retention are measurable goals when building and delivering a superior patient experience. Research shows that consumers who receive great experiences will be loyal, continue utilizing services that are effective and helpful, and share their experiences with others. Additionally, life science organizations that show they prioritize patient experience can add greater value to their bottom-line than those that do not. By effectively measuring and managing patient experience you may begin to outperform competitors. Providing quality patient experience can improve key bottom-line measurements including the following:
Revenue growth
Profitability
Shareholder value
Stock market performance, and
Retention, or Customer Lifetime Value (CLV)
When working to transform your patient experience, you should set a goal to focus on your consumer ratings. There are two rating systems that are applicable to life science companies, the Net Promoter Score, or NPS, and the CSAT, or Customer Satisfaction. The NPS, which is a rating system that allows consumers to rate their likelihood of recommending a company, is used in many industries as a measurement for customer loyalty and an indicator of growth.
The CSAT, or Customer Satisfaction, is another commonly used key performance indicator that tracks how satisfied consumers are with your organization. It's important to know that CSAT measures customer satisfaction whereas NPS measures customer loyalty. Alphanumeric is incredibly proud to report that we have carried a 97% CSAT score for over a year and 96% the year before. The current overall U.S. Customer Satisfaction Score is 74.4%
Collecting patient feedback, and patient satisfaction surveys to determine the patient perception, care delivery, patient satisfaction, and overall patient experience should be part of your everyday practice. This information helps refine the patient experience, and alert you to any immediate issues. By improving your patient satisfaction score you can improve outcomes.
Creating a successful patient experience
As you begin the journey toward improving your patient experience, listen to the data behind your patients to begin meeting their needs with personalized, accessible experiences. It is important to discover what your patients, and prospective patients, desire in order to maintain satisfaction and achieve a long-term relationship. If healthcare organizations adopt applications and technologies that simplify every step of the patient care experience they can create an exceptional patient experience.
In a recent study, 66% of consumers were frustrated over the lack of digital patient administrative practices, and 41% said they would drop their provider due to an overall "poor digital experience." COVID brought us an influx in accessible Telehealth appointments creating ease-of-access, convenience, and boosting satisfaction scores over digital experiences that were as good, or better than in-person visits. It shouldn't take an epidemic to provide solutions to meet patients' needs.
Patients are consumers. They are seeking instant answers and instant access to every interest they have 24 x 7 x 365, and they expect the same results when it comes to their healthcare. There are many solutions where it comes to improving the patient experience, tapping into the always-on consumer. Improving the patient experience by incorporating a human-centered chatbot on your website gives you the ability to transform your patient experience by answering patient and consumer questions at any time of the day through incredibly accurate and fast results.
The Alphanumeric Virtual Assistant provides patient and HCP answers to thousands of questions, is constantly adapting its knowledge base, and is nearly 90% accurate. We have implemented this solution on over 20 of our life science's client's websites, read more about the real-time results.
There are a multitude of solutions that can help you improve your patient's experience that are simple and effective. Personalize the experience, and drive patient engagement with Alphanumeric's seamless solutions that will not only satisfy your patients, but help you build relationships and equity with your patients and consumers. Take the first step by contacting us , and we'll get started helping you improve your patient experience in a way that results in satisfied and loyal consumers!