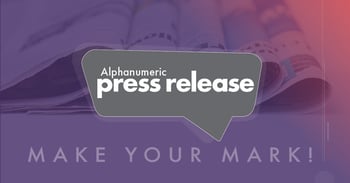 Press Release
Raleigh, NC, January 2023 — Gallagher recently announced that Alphanumeric Systems has been recognized as a best-in-class employer for its commitment to investing in its employees.
This recognition comes from Alphanumeric's participation in the 2022 Benefits Strategy & Benchmarking Survey, which measures benefits, compensation, retirement, and employee communication strategies.
As Area Vice President of Gallagher, Ellen Tucker said, "Alphanumeric Systems stood out among the crowd – their commitment to employee health, financial security, and career growth is truly exemplary! We're thrilled to have them as an award-winning employer of choice in today's competitive job market."
It is clear that Alphanumeric Systems is dedicated to creating a positive workplace for its employees and ensuring that each employee has the opportunity to reach their fullest potential.
Alphanumeric's CEO Randy Trice said in an interview "We are thrilled and honored to have been recognized as a best-in-class employer for our commitment to investing in our employees. At Alphanumeric Systems, we pride ourselves on offering our staff the best opportunities to develop and grow, both professionally and personally. This honor is a testament to the hard work, dedication, and enthusiasm of everyone who works with us."
We hope this serves as an encouragement to other employers in the industry and serves as a reminder of the importance of investing in your employees. Congratulations to Alphanumeric Systems Inc.!
For more information on Gallagher's Benefits Strategy & Benchmarking Survey, please visit their website.
If you have any questions or want to learn more about Alphanumeric, please don't hesitate to contact us.
###
Alphanumeric Systems Inc provides contact center, digital transformation, and technical services support to our partners that increase their customer engagement, and overall satisfaction, and build a more aware, empowered, and engaged customer.