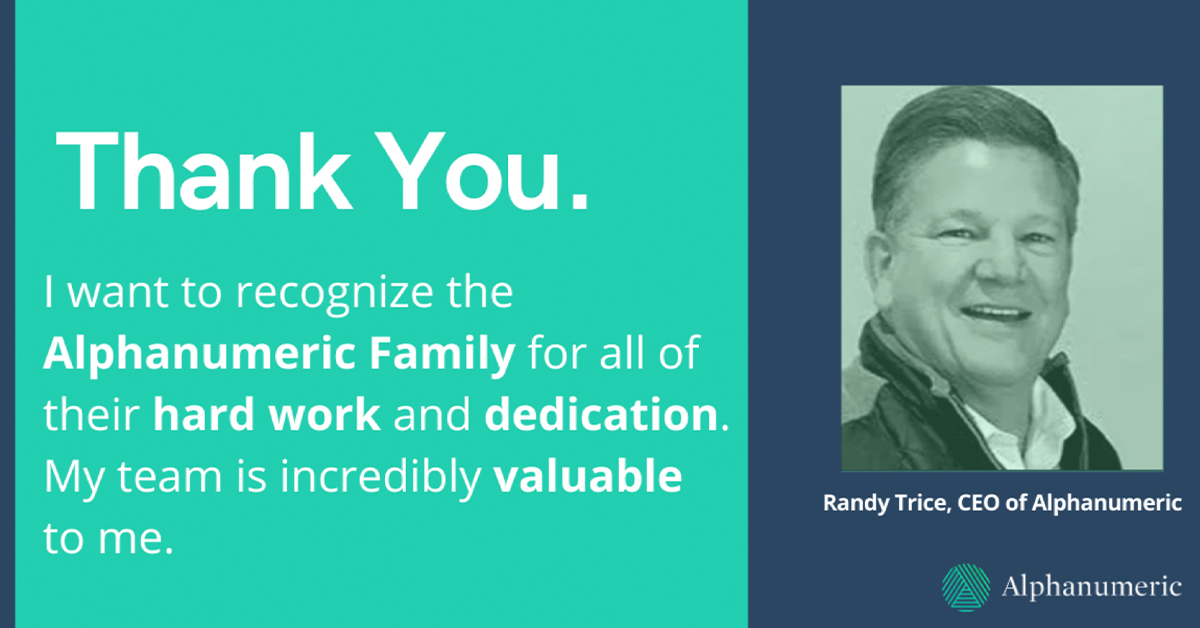 During this season of change, uncertainty, and thanksgiving I have been doing a lot of reflecting and wanted to take a moment to speak to my Alphanumeric family and recognize them for all of their hard work and dedication. My team is incredibly valuable to me, and I want to say, "Thank you."
---
We have been working together in a strategic way throughout the better half of a year to achieve huge success. I have recognized the team pulling together to work towards a common goal of success during such uncommon circumstances. Alphanumeric laid a foundation for digital transformation a decade ago, and when the rest of the world was trying to catch up, the Alphanumeric family kept marching on, never missing a beat. Our company was blessed in that we were prepared with the tools we needed to be successful to stay ahead of the game heading into this pandemic.
When March rolled around we sent our employees home to ensure their safety and kept on working to make certain our customers were taken care of and helped take their businesses virtual as well. While a remote workforce was in our DNA, taking our entire company remote did give us some insight into each other's work-from-home lives. From, managing families, kids, school, and more, the Alpha family has learned many new things about the virtual work environment. Gaining a small insight into each other's work-from-home lives has brought new perspectives to many for those who are managing the virtual-work and family balance. The Alpha family has truly been able to rise to the challenge they have been faced with this year.
Each department has gone above and beyond to ensure success during this time. Whether it's finance keeping the company on track, operations creating an unbelievable experience, marketing ensuring that we get noticed and the right people pay attention, sales building long-lasting relationships, or human resources and recruiting hiring and keeping amazing people, everyone has come together and played a part in the success of the company this year. I am happy to report that we have done more business than ever, and covered more countries than ever before. All because we made our own luck and everyone did their job well!
It is no secret that COVID brought considerable changes this year to the way we work and the support our employees need. It is important for the company to come together and create a sense of family. When a team member is affected or feeling stress during this time of need Alphanumeric has ensured they are supported. We have also established a solid DEI Program. Diversity, equality, and inclusion is an incredibly important subject everywhere right now, including throughout Alphanumeric.
The driving force that keeps us moving forward during this time is our people. The amazing leadership of Alphanumeric and our core value that states, "keep good people." That value starts with hiring good people. We demand a lot from our employees. And we employ skilled, dedicated, and intentional people that are very good at their jobs. Through hiring qualified, professional people, we know they will do the right thing when nobody's watching.
Our team has been incredibly nimble during this time of uncertainty and I want to thank them for their dedication and willingness to adapt. I will end by saying, "This year is going to be a good year, 2021 is going to be a great year, and 2022 is going to be a phenomenal year!" I am incredibly blessed to work with such an amazing team. I always tell my colleagues, "You have no idea how lucky you are to have such an energetic atmosphere and team to call your family!"
Thank you Alphanumeric Family for all of your hard work. You are appreciated.