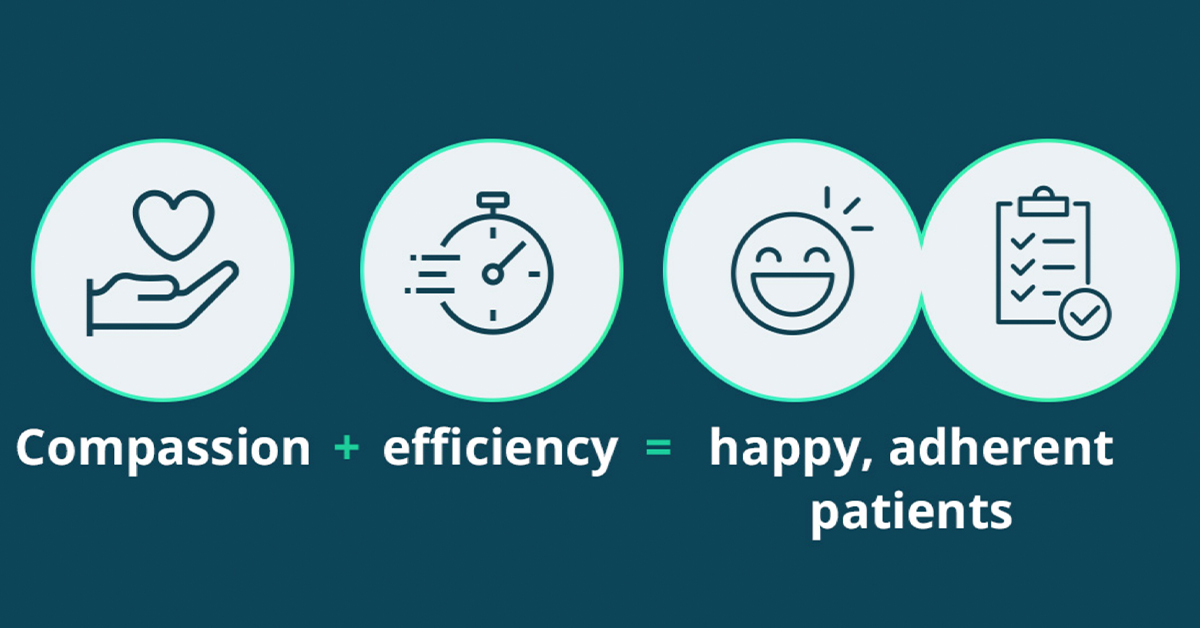 At Alphanumeric we help some of the largest pharmaceutical providers in the world look at how they are running their HCP and patient intake and outreach. We figure out what combination of data analysis, operations, talent, knowledge management, technology, and innovation is needed to deliver the best possible patient experience (and HCP experience). After implementing these solutions at various stages – clinical trial, acquisition, and adherence – one thing is clear. There is a big opportunity for life sciences organizations to connect the dots between adherence, patient outcomes, and business.
There are two good reasons for this.
The first reason to connect patient adherence and brand efforts is the patient. The number one goal of any drug is (or should be) to improve patients' lives, and patient adherence is a critical factor in patient centered outcomes. If you can succeed in improving patients' lives by reversing poor adherence, they will stick with you!
Adherence is especially critical to patients who are dealing with chronic disease or illness. In our global contact centers, we've served patients who go through months and even years of doctors appointments, hospital visits, tests, and waiting, all while feeling subpar (in the best cases) before they can be diagnosed and prescribed medication.
Then getting them through the access and payer portion of the patient journey is another step that takes a smart strategy and smooth operations. Finally, patients get their prescriptions and begin treatment. Even at this pivotal milestone, this article from US Pharmacist estimates that adherence to chronic medication is only 50 percent.
Soak that in for a second. Fifty percent adherence to chronic medications!
Now you say to yourself, "Fifty percent medication adherence... what does that really mean?" According to this same article from US Pharmacists, approximately $100-300 billion in healthcare costs could be curtailed annually by addressing medication adherence. That's a pretty big number. What does it mean to an individual life sciences company? Or an individual brand within that life sciences company?
For years life sciences companies have prioritized acquisition over improved adherence. Patient loyalty – especially for a chronic condition – is a complicated landscape of patient care that requires attentiveness, empathy, information, and ease at every step. Not to mention competitive advantage. Some might have dismissed it as more effort than it's worth. If this resonates, I urge you to read on.
This brings us to the second good reason for a brand strategy that includes treatment adherence.
According to this article by the Harvard Business Review, "If you're not convinced that retaining customers is so valuable, consider research done by Frederick Reichheld of Bain & Company (the inventor of the net promoter score) that shows, "...increasing customer retention rates by just 5% increases profits by 25% to 95%."
If life sciences companies, health care organizations, or even individual brands could figure out a way to increase their adherence rate by just five percent, I can only imagine that this would be a game changer in the form of an improved health outcome and also revenue! And certainly to the $100-300 billion in healthcare cost waste mentioned above (R&D, manufacturing, supply chain, services, etc.).
Life sciences companies – especially those serving patients with chronic illness on a medication regimen – need patient support programs to be there for the patient at every step of the patient journey: diagnosis and care plan crafting, prescription, prescription onboarding (access, affordability), prescription fulfillment, treatment regimen, and support. To see improved outcomes, these patient support programs should have both outreach and support.
The patient outreach and support effort has to have some key elements to ensure patients get fully onboarded to treatment and then to encourage them to stay with it. Alphanumeric has been running these kinds of programs for more than a decade, and we have a recipe that works.

The Alphanumeric Patient Support & Adherence Platform
Patient support and outreach should consist of data-driven, automated, patient-centered service. In every Alphanumeric Patient Support & Adherence program, you'll find these three essential ingredients.
1. Patient Outcomes Focus
From the story your patient and health care professional interactions tells us (patients and HCPs will tell you exactly what they need!), we make a plan. Then we bring it to life with a team of experts who deliver compassionate support. The third key element of our patient education focus is through personalization. We support 28 languages across our global contact centers. Additionally, our artificial intelligence (AI) solutions use natural language processing (NLP) that supports 38 languages and understands conversational intent.
2. Productivity
We've architected a smooth-running system of expertise, forward-thinking platforms, and reliable procedures. Every patient compliance and support solution we have in place is constantly scoured for areas of friction that can be smoothed out with more efficient processes, better information, and automation. This keeps our operations running like a well-oiled machine, which makes employees happier, more confident, and able to deliver better service to patients.
3. Innovation
Using this approach of continuous improvement and constant search for efficiencies, we identify repeatable tasks that can be automated. Some typical areas for this are standardized answers to frequent requests around topics like patient assistance, coupons, and financial assistance.
This frees teams up to focus on higher value things like medication compliance, adverse events, treatment recommendation, shifting left, and workforce transformation. Alphanumeric is in the business of innovation that leads to efficiency, productivity, and ultimately a better customer (patients and HCP) experience. This means our clients can focus on their core competency, which is developing and delivering novel medicines for patient satisfaction.
The result of this focus on patient-centricity, productivity, and innovation can be seen in our own KPIs: Our global CSAT hovers around 97% and our NPS is 85% (the healthcare industry average NPS is nine percent). And for years we've been helping some of the world's largest life sciences companies achieve near-perfect CSAT. But beyond that, customers choose us and stick with us because we partner with them on their vision, and side by side, we bring it to life through digital transformation and innovation they can't find anywhere else.
Our team absolutely loves to zero in on a client's problem area, see how we can make sense of it, and get a solution up and running in a way that directly helps patients, HCPs, and the business. All with better patient outcomes in mind through compassionate care.
Do you sense that there are areas of friction in your patient or HCP experience standing in the way of patient engagement and slowing down your ability to hit business goals around quality of service, revenue, productivity, or business continuity? We'd love to help. I invite you to put us to the test!