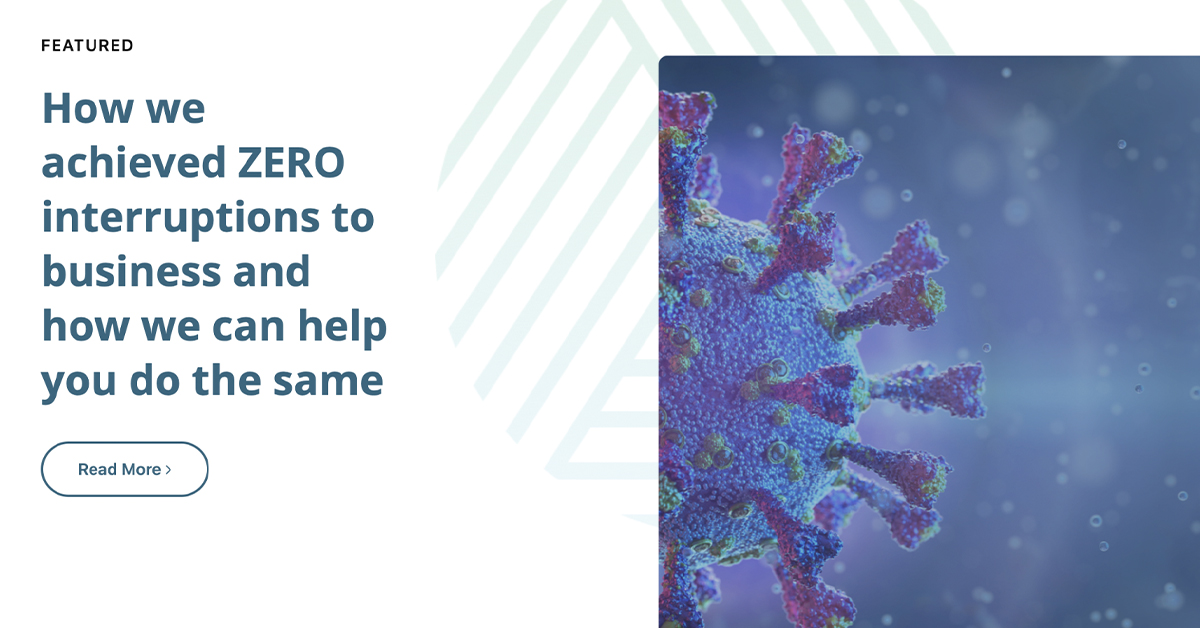 On March 11, when the World Health Organization (WHO) declared COVID-19 a pandemic, along with so many other organizations across the globe, the Alphanumeric Pandemic Plan kicked into action. This included pulling up the Business Continuity and Disaster Recovery Plan, for which we do mock runs semi-annually, and quickly assessing how we'd need to adapt it to this surreal situation. Our latest mock run centered on a full power loss at HQ in Raleigh caused by a hypothetical hurricane – which isn't a stretch here in the Research Triangle region of North Carolina where we have hurricane season like clockwork every late summer through early fall. Not in my wildest dreams – or nightmares – did I imagine the real-world version being so much more expansive. So much worse. But that's what it was and continues to be.
So, leaders across our organization began springing into action. From helping our people understand how this was going to impact them to preparing to move our customer experience operations at client sites remote, to helping our clients figure out how they were going to manage 10x the virtual workforce they were used to (and that's being conservative). Meeting after meeting, we quickly set the wheels in motion. Everyone doing their part.
Here we are, months later, and I've come off of another call with another customer who is shocked and extraordinarily thankful that we have had ZERO interruptions to our business, which means ZERO interruptions to theirs (at least the portion that we manage).
I'm humbled and grateful that we were prepared, because so many are not. I reflected on all that it took to get us here and would like to share it with you. Maybe there is something you can glean from it. As you'll see, it's been an involved, ever-changing process that we've kept at the forefront of our business, and the results have paid off. We'd love to help you do the same.
Although we've been around for 40 years, it's really been in the most recent decade that our support of some of the largest life sciences companies grew from being a talent, technology, and employee support provider to managing full-scale, global, customer-facing contact centers, or what we call today, global customer (and employee) experience operations. Now we support the largest life sciences companies in the world with a variety of contact centers – from medical information to clinical support to vaccines, to patient adherence and support, to the most recent surge in demand – COVID-19 response centers.
When we experienced this spike in demand for global customer experience operations, we knew we needed to scale our capabilities while staying focused on what was core competency for us – innovation and service excellence. We needed a digital transformation strategy.
You might be asking yourselves why a digital transformation strategy was the answer. I'll tell you. We realized we couldn't do everything mission critical ourselves. If we were going to expand globally and in a rapid manner, we needed to be on top of our digital game. We set out to identify the progressive, digitally-minded providers whose core competency it was to ensure things like availability, scalability, security, compliance, omni-channel access, and so on.
One of the success factors early on was managing risk. When you are experiencing rapid expansion and relying on partners to help get you there, there's a trust factor in building your partner ecosystem. This means taking on some risk. And to increase your odds of success, you need to figure out how to mitigate that risk. One critical factor for us was partnering with organizations who align on the Alphanumeric vision, strategy, and even tactics when it comes to technology, capability, and geography. Some examples...
High availability.

Some of our contact centers like clinical trials help desks take life and death calls. These as well as our medical information help desks, and managed service clients require service availability on a 24 x 7 basis.
Scalability.

We needed the ability to scale interactions up or down quickly as interaction patterns presented themselves and customer requirements changed.
A secure environment.

We needed to ensure security of network and endpoint infrastructure.
Compliance.

We needed to be compliant with HIPAA, GDRP, and SOC2 standards.
Omni-channel engagement.

Meeting customers where they are at – email, social platforms, web, chatbot, even snail mail – is fundamental for any high-performing contact center.
Probably most importantly, we chose partners who aligned on our commitment to customer service, employee satisfaction, and operational efficiency. It is these partnerships our digital transformation ecosystem is built around, and it is these partnerships that enabled us to focus on service excellence.
One such partner that has been critical to the digital transformation of our customer experience operations is NICE. They checked all the boxes. NICE InContact's customer experience platform is cloud-based and focused on driving better interaction with customers by making it easier and faster for agents to interact with customers. This is so important. As we say at Alphanumeric, "No matter how great the vision, it's your customers and employees who will make it a reality." NICE does this through persona based employee engagement. And their work is continuously recognized by Garter as a leader in the Workforce Engagement Management (WEM) magic quadrant.
I'm excited to share with you the final component that really had an impact on achieving ZERO interruptions to business in the face of Coronavirus, because it couldn't be more timely. There was something we discovered about halfway into our digital transformation years ago – a remote workforce is a happier, more productive, more impactful workforce. For some of you, the shift to remote strategies has been jarring. You might be feeling worried that your team won't be as focused or productive. You might be feeling like you're trapped without a lot of options if your worries come true.
How can a remote workforce be more impactful? Let me explain.
We began work from home pilots in early 2014. We would offer a remote option to employees as an incentive for jobs well done.
After 90 days, results started piling in...
Higher customer SAT
Higher employee satisfaction
Higher occupancy/lower absenteeism
Lower turnover
We calculated that this gave employees at least two hours back in their outside-of-work lives to spend with loved ones, pursue interests, work out, relax, or whatever they wanted to do with that time. One employee shared that because of the remote work option, he no longer had to commute. This meant he was able to save more than four thousand dollars and could take his family on vacation for the very first time.
After six months, we saw that remote groups were more productive than in-office teams. We used this model throughout our expansion across the globe. Today our CSAT hovers around the 97% mark.
No one is immune to Coronavirus. Whether it's yourself, your loved ones, your staff, their loved ones, the good women and men keeping our groceries stocked, delivering our mail, even our healthcare professionals... everyone is impacted. This can be overwhelming alone, but when coupled with the fact that every organization still has the objective to meet their customers' needs, it can be stifling to figure out where to even begin.
We would love to assist you to provide services in areas where you are overwhelmed with information requests. Here are some examples of how we can help...
We can set up an emergency response crisis management center within 48 hours. For Tier-1 triage or for dissemination of specific information like How do I get my employees using VPN? How do I educate my employees on how to comply with the #stayhome order or what social distancing is? How do I educate my customers on how current drugs they are taking will affect them if they are trying to avoid COVID-19 or if they should get COVID-19? What do I do if my contact center agents are impacted by COVID-19 should they or their family member become infected?
We can supplement your service delivery teams to address any of these use cases and more. We have geographically dispersed service capabilities, managing the global distribution of critical, life-saving drugs.
Another example of something we were already doing for clients that's coming in extra handy right now is using our contact center to keep your sales operations running. With field strategies that have come to a screeching halt, we can use our contact center to send out product information, manage patient enrollment, and even offer virtual training for things like injections!
The bottom line, getting to zero interruptions to business in the face of a crisis like COVID-19, took a lot of brainpower and elbow grease. It took a digital transformation strategy. It took an ecosystem of partners aligned on our customer experience, employee satisfaction, and operational efficiency philosophies and practices. It took an intimate knowledge of the risks that would present and a solid plan for mitigating them. It took a remote operations model that would enable a happy, productive, impactful workforce. It took a focus on innovation and service excellence.
We've made all of this our business, and we're ready to help you.