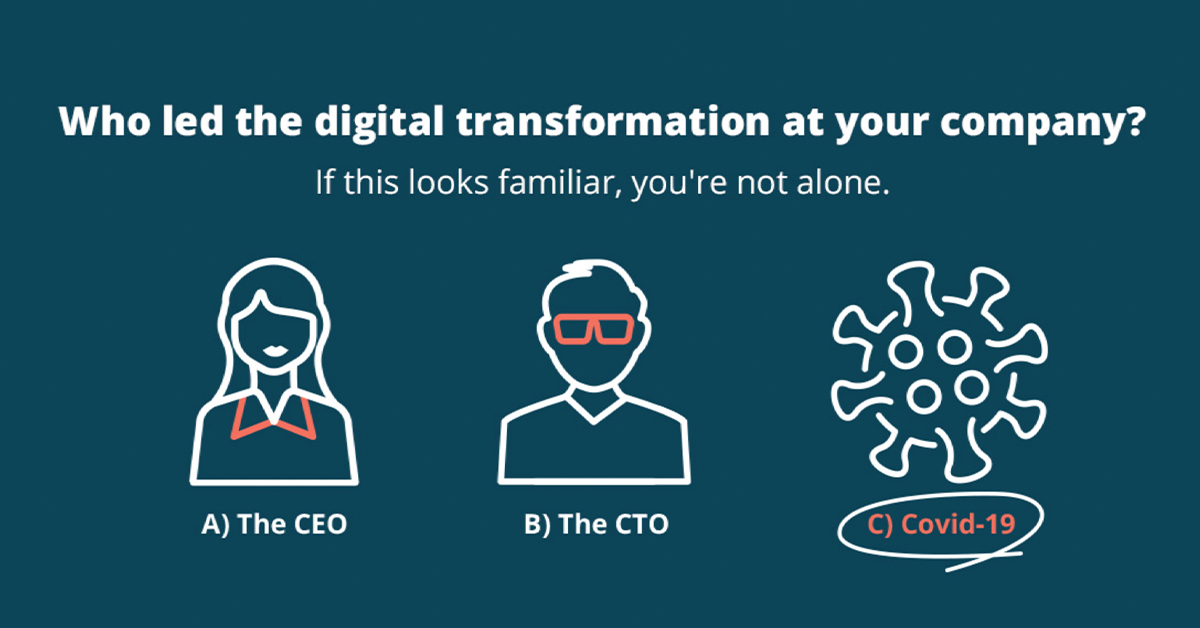 As the worldwide COVID-19 pandemic hit, many organizations – including brick and mortar contact centers – shut their doors as governments put stringent requirements around social distancing and enforced mandatory closures of non-essential workers. Organizations could not have employees working from the office, and many lacked the technology infrastructure and operational experience to support a virtual workforce. For many, this equated to breaks in the service supply chain.
More than a decade ago, we went through a similar transition. While it wasn't spurred on by a worldwide pandemic, it was aimed at rapid and large-scale global expansion and the need to be agile with our operations to meet customer demand regarding locale, language, budget, productivity requirements, and more. For these reasons, we made a commitment to digital transformation. While the drivers were different, the requirements are similar to what so many organizations are experiencing right now as they respond to COVID-19. A focus on customer needs, the data that tells that story, automation to intake and respond efficiently, and the infrastructure and processes to set our remote workers up to satisfy customers.
At Alphanumeric, we recognize that this new normal forced onto all of us – while painful – is an opportunity to work smarter. And because we've been through this and come out the other side, we're eager to get in the trenches with you and help however we can.
One trend we are seeing is both consumers and organizations turning to self-care digital options to meet their short-term needs. Businesses who figure out how to take advantage of new and emerging channels that zero into this need for self-care will thrive not only in the short term but will also use these smarter ways of doing business to reap cost, efficiency, and productivity gains long-term.
Human behavior is influenced by technological advancements, and also by environmental, economic, and sociological factors. All these factors are evident in the current COVID-19 pandemic. For this reason, it's probable that many of the behavioral changes adopted by people during the pandemic will stay long after we get through this nearer-term crisis.
Life Science Omnichannel Strategies Gain in Importance
As we've all heard and read again and again, it is likely that the path to recovery from the pandemic will be a long one, but there is a light at the end of the tunnel. Organizations armed with a strong omnichannel strategy are likely to recover sooner and be in a stronger position than those without.
Let me explain.
Todays' consumers are tech-savvy and channel agnostic, living in a world of ever-evolving digital devices, touchpoints, and channels. Despite behavior that defies traditional linear concepts of the customer journey, one need remains constant: A personalized experience is essential to customer satisfaction.
Succeeding in omnichannel requires teams to roadmap the customer journey, cultivate a comprehensive customer view, and embrace the channels where their customers are, or what we like to call everywhereness. This customer-centered, holistic approach leverages the most relevant channels and interactions to deliver an experience that is not only seamless, but also reflects the individual customer's tastes, habits, communication patterns, and more.
People are turning to intelligent automation – artificial intelligence (AI) and robotic process automation (RPA) – to help achieve omnichannel goals. But be careful; there are so many vendors out there who make claims around AI. An experienced eye is needed to distinguish AI solutions that can truly drive impact via natural language processing (NLP) plus a foundation of what is called lexicon language specific to your industry. It is that combination of NLP and industry-specific lexicon language that is required to truly understand the conversational intention. And the conversational intention is required for accurate response and true personalization like interpreting customer preferences regarding communication channels.
Customers in the Digital Age have become increasingly mobile and channel-agnostic. There is constant fluidity between one channel and another, from online to offline, and vice versa. Customers expect a seamless and consistent experience without a noticeable disconnect.
Organizations that are trying to catch up with this omnichannel explosion are well aware that their traditional channels are not always organized to allow a smooth cross-channel transition. In fact, they are often segregated from one another, each channel having its own set of goals and strategies. Siloed organizations often find themselves internally misaligned as each segment of the organization pursues separate strategies – some defeating the purpose of the other, some duplicating efforts, and many doing both. This is expensive and ineffective. And if this sounds like your organization, don't be alarmed. You're not alone, and there is a way forward.
An impactful omnichannel strategy must first be supported by aligned goals across your organization. In a global life sciences company, gaining alignment across all of the customer-facing groups within your organization isn't such an easy task. With even a small number of different departmental goals, it's difficult for business users to define a function that combines goals while avoiding unwanted effects. AI can help identify and address the misalignment challenge by creating a company-wide and balanced measurement function.
To create a company-wide balanced measurement function, you first need KPIs that are important across the organization – customer satisfaction (CSAT), Net Promoter Score (NPS), average handle time, adverse event (AE) and product quality complaint (PQC) reporting. No matter what department you are talking about, these will always be the headlines of how your operations are performing. Using AI to gather data to measure how your operations are doing on each customer-facing channel will distill a macro view of your performance.
This understanding of your analytics is the engine behind the CX Operations Framework. A unified view of analytics that measure departmental goals creates a single, balanced measurement function at the enterprise level, which in turn measures overall corporate directives and initiatives. Once this enterprise-level measurement function is defined, it can be used to find misalignments between departments. A balanced measurement function can serve up the data you need to make decisions about the risk and benefits at stake as you trade-off between factors like cost, revenue, volume, income, machine maintenance, storage space, labor requirements, and so on.
The life sciences industry has teetered on the edge of digital transformation, trying to figure out how to embrace disruptive changes in digital and technology. The onset of the COVID-19 pandemic has set in motion an immediate need to throw out the playbook when it comes to engaging with customers. In life science, this means digital needs to be part of the strategy for serving patients and health care professionals.
With a critical need to provide the public with critical services and vital information, the healthcare industry can take cues from the customer experience strategies of their industry counterparts, especially retail. At Alphanumeric, we are passionate about creating exceptional experiences for customers, patients, and healthcare professionals. Now, more than ever, we see a need for digital transformation in healthcare to reach and engage patients with timely COVID-19 information and services.
Below, we've shared an omnichannel optimization framework that healthcare organizations such as payers, providers, retail pharmacies, and life sciences can draw on to reach their stakeholders with critical content and services. One thing is true across the board, the necessity to hyper-focus on your patients' needs has never been greater.
What Challenges Does the Industry Face?
Providing relevant, accurate, and useful information is always a priority when communicating with your patients and healthcare professionals. During a crisis, the need for clear communication increases and can put a strain on both people and processes. With COVID-19, organizations, patients, and HCPs are looking for a range of information:
Impact of coronavirus to drug safety, access, treatment, affordability, and support
How ever-evolving regulatory changes impact standard operating procedures, training requirements, knowledge requirements
How to treat patients who have tested positive for COVID-19
Life sciences enterprises must ask how they are providing accurate and relevant information to their audiences and what they can do better.
Traditional or singular communication channels may limit your ability to disseminate content rapidly during a crisis. There's a need for organizations to unlock new – SMS, social, virtual assistants, mobile apps – to distribute messages at the speed of crisis. In addition to adopting new, relevant channels, organizations must also orchestrate the dissemination of key messages across channels and based on the story their interactions data tells them, strategize around the channels where their audiences are most likely to engage.
With social distancing measures in place, another challenge is the need to adapt to increased reliance on digital communication with regard to treatment alternatives. Directing patients to these alternatives while ensuring routine operations can function is critical. Companies must ask how they are using digital self-service options to meet non-critical and routine needs while identifying and routing new needs such as helping patients find COVID-19 testing centers.
Finally, protocols for COVID-19 testing and treatment are changing rapidly. Pushing content changes, updates on order fulfillments or availability of resources will require new, streamlined workflows. To push these technology-driven customer experiences out at the speed of crisis, how can you decrease dependency on IT, break outside-of-standard release cycles, and coordinate with legal?
The Roadmap to Change
To adapt to a world with COVID-19 and establish a new normal, the need for organizations to ensure agility and personalization is clear. A strong CX ops strategy leveraging the right channels and AI as a means of getting there is a great first step. If you are feeling like it's a lot of work, it is! But don't be overwhelmed; it's achievable. And the rewards are well worth it.
To help you get started, we've put together the CX Ops Framework, described below and detailed in this interactive infographic designed to help you sit down with your team, define your unique CX ops strategy, and start iterating, implementing, learning, refining immediately.
If you are interested in accelerating this process or getting a deeper understanding from myself or any of the other CX experts that have driven Alphanumeric's digital transformation over the last decade, we'd jump at the chance to assist.
1) Create a CX Center of Excellence
First, select an internal team to reimagine your customer experience. Internal processes and approvals may serve as hurdles to improving the patient experience. In a time of crisis, organizations need to put those processes aside and nominate a team that can act quickly to create and release content, define and refine procedure, assess and implement solutions, and drive impact immediately.
Suggested team members…
A sponsor to navigate approval for the team's plans, including legal-compliance reviews and necessary authorizations
Content creators and developers to build a system to house information, and create and publish content
A product owner to collect and translate customer and stakeholder requirements
Operational analysts to review insights in real time and make recommendations to improve customer and patient experiences
2) Map Your Customer Journey
A simple best practice that is often forgotten is to know your customer, what she is trying to achieve, and what her preferences are along the way. So many times customer experiences are designed starting with the organizational structure and functions. The very best customer experiences start with the customer's perspective and desired destination (which isn't privy to organizational structure or silos), removing friction from that customer's journey, and ultimately alleviating her pain points and getting her to her desired destination.
Map how the journeys differ for different audience segments you are trying to reach. For example, if you have healthcare professionals (HCPs) calling your contact center for specific advice and call wait times are over one hour, then direct them to a virtual assistant or self-help applications. You need to understand their behavior and the only way to know that is understanding your data.
3) Strive for Relevance
Relevance with your audience sets the tone for her experience. Be relevant to the current situation and what you can anticipate about your audience's needs. It starts with her state of mind. Today, it's COVID-19. Tomorrow it will be something else. Whatever the "it" is, know it, know how your customers feel about it, and help them get what they need as they try to traverse it. As best you can, know the emotional driver behind your customer's search for your content or service.
Other considerations for relevance: Think about the channel your customer used. What does this say about your customer? Is she on the go, does she float across channels? Does she go to certain channels for certain things? These are all data points that can help you shape your strategy and make sure you are delivering the most pertinent information at any given time.
Use strong and clear calls to action to drive different audiences to the information they need quickly. For example, right now it's probably a good idea to ensure there are website banners, landing pages, and FAQs that lead to information on safety, treatment, access, affordability, and support as it relates to the ever-changing landscape of COVID-19.
4) Measure Your Results
Don't let your message or service be the tree falling in the woods with nothing to hear it. You must, must, must measure the effectiveness of the content you put out. Testing has never been more critical to ensure that your content and customer experience are meeting the needs of the COVID-19 crisis and beyond. Strategize with your data and insights teams to gain access to and shape the tools you need to iterate and improve your results.
Before you start, define key performance indicators (KPIs) that help you measure conversion against digital self-service tools and telehealth options. The right KPIs will help you evaluate and refine your omnichannel strategies and aid in sharing information such as coverage clarity, continued COVID-19 education, provider locations, and so on.
5) Support with Empathy and Strategy
Everything we've discussed up to this point equips you with a support model driven by strategy. Then it will be up to your procedures, and training, and customer-facing employees to ensure that strategy is brought to life with empathy. If you aren't able to meet someone where they are, even the most brilliant strategy will fall flat.
Some pragmatic places to start include providing employee and customer support 24/7, critical in this time of crisis. Respond to the urgent needs of any audience. Give your employees and customers the help they need. This situation we are dealing with is tough for everyone, so approach each conversation with empathy first.
6) Don't reinvent the wheel
Finally, learn from your peers and partners to capture your customers' attention and guide them along a path to wellness. For some of us, our entire livelihood is CX ops strategy, procedures, solutions, implementation, data, results, culture. Because of the ever-evolving AI landscape, it's one of those things that while mission critical for organizations once they understand what it can do for them, it's easy to fall behind if you don't dedicate ALL of your working time to it.
The good news is that the Life Science team within Alphanumeric does dedicate all of our working time to it. As I mentioned, we started this journey more than a decade ago. When it comes to AI, we started from the ground up. Looking at the more than 1,400 vendors on the marketplace, closely evaluating 55, and landing on a solution that would fuel our vision of customer experience, digital transformation, and impact. We are the ONLY solutions provider to offer AI with NLP that has a robust life sciences lexicon and can drive the following results...
Alphanumeric AI Results
A virtual assistant for patients, caregivers, and HCPs that reduces ¾ of agent volume
An email deflection tool for patients, caregivers, and HCPs that reduces ¾ of agent volume
A virtual subject matter expert that integrates with the CRM (SalesForce) and gives agents instant access to the right answer more than ¾ of the time
NLP integration with Veeva Vault that gives HCPs instant access to the right answer, something they would have taken much longer to find themselves
Now more than ever, you must alleviate employee and customer concerns. Alphanumeric's solution helps you put your customers first with self-service help centers, FAQ optimization with built-in NLP and machine learning (ML) using your industry lexicon language, SMS alerts to download key forms, virtual assistants that tap into Salesforce and Veeva Vault for instant information without lengthy searches. And we do all of this in a way that's good for business – efficiency, productivity, acquisition, and adherence.
In closing, my advice is to listen, monitor and engage in relevant conversation across all your channels. I hope this will be helpful to you as you reimagine your CX Ops Strategy. And if you'd like some guidance, we can shape a demo of our AI solutions customized to your specific use case. Let us know here.