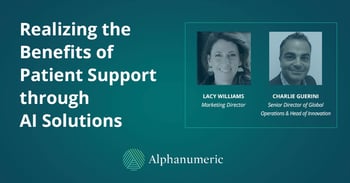 We live in a world where life sciences organizations, healthcare professionals, and patients are now interacting remotely at higher levels than ever before. We were headed in that direction even before the COVID-19 pandemic hit in early 2020 and now the need to provide patient support that's clear, compassionate, and efficient is also higher than ever before. Both pharmaceutical companies and HCPs understand that issues of affordability and payment, a patient assistance program, access, uses, dosages, and safety can impact both patient adherence and health outcomes.
At Alphanumeric, we realize that the digital transformation required to offer automated solutions to patients and HCPs – from simple automation to those that are AI-powered – may seem like an insurmountable task. There's a learning curve for those who own the HCP and patient experience, as well as for regulatory and compliance teams. That said, the benefits of automated, human-centered patient support are significant, and it's necessary to find solutions that allow life sciences companies to support patients and HCPs all the time – on all the channels they are using.
Why is Efficient and Human-Centered Patient Support Important?
Treatments are only beneficial if patients heed the medical advice that HCPs give them and follow appropriate drug protocols. Patient support is a crucial element of adherence. Ideally, support – whether it happens person to person or through an AI-powered chat – should meet patients where they are with a combination of compassion and expertise. Compassion is not a word that many would associate with AI, but its inclusion is an essential element of any successful patient advocate system.
A core part of the Alphanumeric patient experience strategy is staying human-centered. In the time of COVID-19, this is more important than ever before. The pandemic has added exponential stress and worry to the situations patients are already dealing with. Meeting patients where they are at with compassion and empathy is necessary to support them effectively. Then we must tackle their requests in a way that is both accurate and efficient.
There are a number of ways we tackle this at Alphanumeric, and they are all rooted in human-centeredness. First, every solution we shape is built around what our patients and HCPs have said about their interactions with us. They will tell you what they need. Whether that's meeting them on channels on which you don't currently operate, scaling existing channels to support the volume, supporting additional languages, being able to provide information about a particular drug or therapeutic area with regard to safety, access, affordability, or support. (Not to mention being able to stay on top of the ever-changing landscape of how COVID-19 affects any and all of this.)
Patients will tell you exactly what they need. Then you need to analyze the data, spot the trends in all of those requests, and scour them for opportunities for automation--whether that's simple automation of routine tasks to self-service. This fuels, even more, human-centeredness, because now you are freeing up your agents' time by taking care of the requests that have finite answers (FAQs), so they now have more time to spend with patients who need it most. It's a cycle of patient-centricity.
And when patients feel supported by HCPs they are more likely to…
Adhere to recommended treatment protocols and medication
Ask questions when they don't understand protocols
Report non-adherence to HCPs
What we can conclude is that compassionate support leads to improved outcomes. When patients feel they can't ask questions, they're less likely to ask them – and more likely to make decisions that negatively impact health outcomes. HCPs can help to improve patient literacy about treatments by encouraging questions and providing accurate and compassionate support during and after patient exams.
Both HCPs and pharma companies must prioritize a more patient-centric model for drug safety and medication adherence. There's ample evidence to suggest that using technology to provide rapid, efficient, and compassionate support for patients is an essential component of high-quality health care. The next question is, what impact does effective patient support have on outcomes?
Does Frictionless Patient Support Improve Outcomes?
If patient support is a critical element of patient care, it stands to reason that when pharma companies provide high-quality support to HCPs, HCPs will be equipped to provide frictionless support to their patients. In turn, that should improve outcomes.
At Alphanumeric, we remove friction from patient support the following ways:
Digital transformation of the HCP and patient experience
Strategy, implementation, and management of global contact centers powered by both intelligent automation and human-centeredness
Bringing patient support and adherence solutions to life
When support is frictionless, it allows for better communication between patients and HCPs about treatment, drug protocols, dosages, and more. When patients feel empowered to ask questions – and confident that they'll get a compassionate response that meets them where they are – they're more likely to ask questions when they need to.
What Are the Outcomes of Patient Support Strategy?
There's proof that high-quality patient support improves outcomes. Patient misunderstanding of prescription drug labels leads to 7,000 deaths per year. These adverse outcomes could be avoided if patient support were easy to obtain and patients felt empowered to contact their HCPs and ask questions when they don't understand how to take prescription medications. Health literacy plays an important role in patient outcomes.
A 2016 study found that patient support programs that included medication management improved patient adherence as well as clinical, economic, and humanistic outcomes. HCPs are best equipped to provide patients with the support they need when it is easy for them to ask questions about the drugs they are prescribing. While the focus is on patient outcomes, it is essential to consider the entire support pipeline, including the HCP's ability to get information about potential drug interactions and uses from life sciences companies.
Frictionless patient support is our goal because every aspect of patient care improves when it is present. Both HCPs and patients benefit when support is readily available and easy to access.
What Are Existing Barriers to Successful Patient Support?
Some patients are naturally inclined to be highly engaged in healthcare and medical decisions, fostering relationships with HCPs and seeking support whenever they have a question – especially when dealing with chronic disease. Others do not, and it's essential to understand the barriers that may prevent them from seeking support when designing frictionless support systems.
A study in the journal Health Expectations looked at the barriers to support-seeking in patients with chronic medical conditions. Of the participants, 46% reported barriers to participation and 39% had an interest in support. The most common barriers expressed by patients include the following:
Reluctance to bother HCPs with questions and concerns
Perception of there not being enough time during appointments to ask questions or seek support
Realization of potential questions and concerns only after an appointment or consultation has ended
The study was focused on face-to-face interactions between patients and HCPs; you can imagine that these barriers are exponential when the communication channels are digital.
As we mentioned above, low health literacy is also an issue – in other words, patients may not understand their treatments well enough to ask the questions necessary to improve adherence and outcomes.
A 2018 study in Medical Economics addressed another potential barrier: the erosion of patient trust in doctors and other HCPs. One of the components involved how the wide availability of medical information on the web makes it easier for patients to question their doctors' recommendations when it conflicts with what they find online. Compassionate and readily accessible patient advocacy can mitigate the loss of trust. When patients feel they can get the support they need directly from HCPs, they may be less likely to seek it elsewhere – or to rely on inaccurate or incomplete information.
It is and will continue to be the responsibility of HCPs and pharmaceutical manufacturers to explore the possibility that new strategies – rooted in both efficiency and humanity – can remove barriers to patient access and thus, improve outcomes.
Can Digital Transformation Improve Patient Support?
At Alphanumeric we create solutions that feature intelligent automation (from simple automation to full-blown artificial intelligence and self service) to serve the life sciences industry. Our focus is on human-centered interactions. While we specialize in creating intelligent automation, we also recognize that there are human beings on both sides of every automated interaction, and this truth is core to every patient and HCP experience solution we shape.
Before the COVID-19 pandemic, pharma companies and HCPs could rely on face-to-face interactions to provide patient support. There was already a trend toward incorporating more digital solutions into patient support, and the pandemic accelerated it. What we've found is that digital transformation can improve patient engagement by making it more accessible.
Our challenge has been to demonstrate compliance when life sciences companies are reluctant to embrace intelligent automation for HCP support in particular. With a recent digital transformation, we spent 8-10 months providing a proof of concept that demonstrated – proved – that AI could quickly provide accurate drug information to health care professionals.
This solution, Alphanumeric Smart Search, used natural language processing that was mature in life sciences vernacular to zero in on exactly what the HCP was looking for. We were able to do this by integrating our AI right into the client's medical information system, Veeva Vault, and shaping a knowledge management system that was AI-ready.
The improvements speak for themselves:
The new support system provides results in an average of 1.3 seconds
Results are 81% accurate
We achieved a similar result with our Alphanumeric Patient Assistant, which has answered over 4,000 patient questions at an 86% accuracy rate with a 71% deflection rate on emails from patients that our contact center agents would have otherwise had to address manually. By automating simple, repeatable, and most frequently asked questions, we were able to free up our agents' time to spend with patients on the issues that were more complex to solve.
Our goal is to continue to expand our knowledge base, further train our chatbots, and push for ever-higher accuracy so that both patients and HCPs can get instant access to the information they need.
AI can help to improve patient support by making it easier for patients to get an intelligent response even at times when their HCPs might have limited availability. If they have a question in the middle of the night, they can get an immediate response to help them determine what they need to do next.
The takeaway is that designed and implemented properly, intelligent automation can make it easier for HCPs and patients to communicate, remove patient support barriers, and help life sciences organizations deliver better care to patients.
Is Digital Transformation Necessary to Improve Patient Support?
When we talk to potential clients about modernizing their systems and incorporating automation and artificial intelligence into their patient support operations, they sometimes ask whether they need to invest in technology and infrastructure to get the results they want.
The answer is not a simple one. The question to ask is, what are the barriers to delivering patient support that satisfies?
If one of the barriers you are facing is a lack of time on the part of HCPs, who are often overscheduled and overwhelmed, then continuing to do things in a highly manual way is probably not going to get you the result you are after. To achieve an effective level of support without automation would require HCPs at every level to invest more of their valuable time on the inquiries they get that are straightforward, have finite answers, and are asked over and over. These are the types of inquiries that are ripe for an automated patient support program.
If another barrier you are facing is the peak volumes caused by patients and HCPs having to rely solely on digital channels, automation is a way to not only handle that but to do it in a way that helps your business and the patients. You have data like never before that you can use to make decisions. For instance, the data on your patient and HCP satisfaction is invaluable. As we discussed earlier, patients will tell you what they think about the interactions you have with them. You can use that to make the experience better. And a better experience leads to better adherence. And better adherence leads to better patient outcomes.
The truth of the matter is that there's plenty of evidence to show that using digital transformation and intelligent automation to support patients is effective. Providers everywhere are seeing the benefits of using AI to engage their patients. According to Medical Economics, even the use of simple technology such as email and text messaging has been proven to give patients the support they need and improve medical outcomes in both the short and long term. We've seen the results, and we know that the potential for AI to elevate patient support and improve relationships between HCPs and their patients is limitless.
The benefits of enhanced patient support apply to everybody, from pharma and life sciences companies (across therapeutic areas--oncology, HIV, respiratory, infectious disease, chronic illness, and more) to HCPs to the people they treat. When patients get the support they need, they are better informed and more likely to comply with treatment protocols. Their results will be substantially better than the results of patients who are less compliant.
At their best, AI solutions enhance patient care with a combination of human-centeredness and efficiency. AI can also help HCPs find exactly what they are looking for in a fraction of the time, so they have more time to answer patients' questions and help them adhere to drug and treatment protocols. At Alphanumeric, we specialize in designing, implementing, and supporting AI solutions that both improve HCPs' ability to find the information they are looking for quickly and provide efficient, compassionate support to the patients who need it.
Let us help you create a patient-centricity-fueled support system that's powered by AI and driven by compassion.