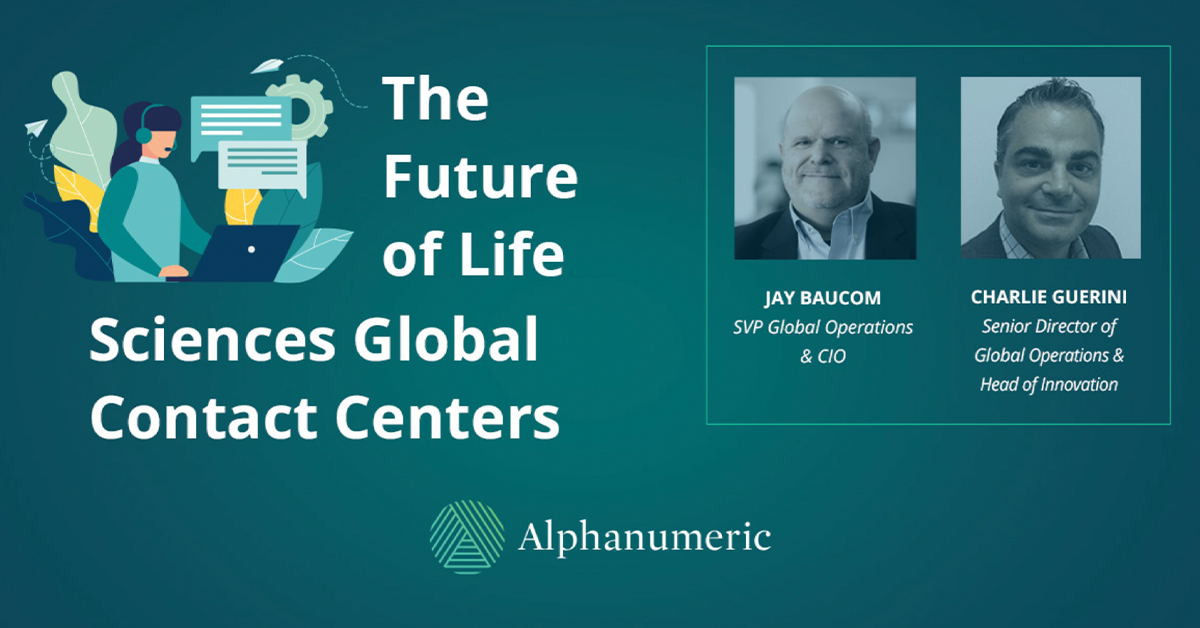 Customer support isn't new but it is constantly evolving. With the emergence of new technology and the ever-changing needs of patients and HCPs, life sciences companies have had to remain agile to ensure that their global contact centers are providing the support required.
Since the creation of Automatic Call Distributor technology in the 1960s, telephone call centers have evolved into omnichannel contact centers designed to meet people where they are. As patients have become technically savvy, they have also become less likely to tolerate long wait times, poor communication, or technical issues that prevent them from getting the help they need. It's for that reason that creating global contact centers that work for patients and HCPs is a priority for life sciences companies.
At Alphanumeric, we create life sciences contact centers that address a multitude of needs. At the top of the list is patient adherence. According to the World Health Organization, approximately 50% of patients with chronic illnesses do not adhere to medication protocols. Omnichannel contact centers of the future should increase patient adherence, provide HCPs with the information they need to treat patients and improve the patient experience at every level.
Here are our thoughts about the future of life sciences global contact centers.
Life Sciences Use Cases for Global Contact Centers
Contact centers are necessary for most industries but the life sciences industry requires an omnichannel presence for two separate sets of people: patients and HCPs. The use cases for life sciences companies include the following.
COVID-19
Before the COVID-19, a surprising 68% of contact center operations were still traditional – meaning brick and mortar locations with most employees working on-site – and a mere 10% of contact center employees worked remotely. The shift required by COVID-19 occurred quickly and today, 71% of contact centers are fully remote and expected to remain that way.
While noteworthy, this industry transformation as a result of a pandemic is still slower than the digital transformation Alphanumeric started nearly a decade ago. It was then Alphanumeric recognized that digital transformation and remote work would be critical to both its own global expansion and to the life sciences clients we served. Before COVID-19 came on the scene, Alphanumeric was 85% remote. This empowered us to have ZERO interruptions to our business when the pandemic hit and maintain our global customer satisfaction (CSAT) rating of 97%, dwarfing industry averages. (Not to mention, we launched a medical information contact center for the world's largest pharmaceutical company, 100% remote, and brought them to near-perfect CSAT in the first quarter.)
Today we work with life sciences companies to meet the need for remote support to protect workers. We believe that global contact centers were headed toward remote and cloud-based solutions eventually, but there's no doubt that the crisis of the pandemic drove innovation and moved digital transformation to the forefront, using a combination of efficiency and compassion to improve support and patient outcomes.
Medical Information & Safety
Conveying accurate medical information and ensuring patient safety is a key driver for life sciences contact centers. For contact centers, the focus is on adverse event processing (identifying, processing, reporting, quality review, follow-up) and also, doing the same for product quality complaints.
While this is an issue that encompasses day-to-day support and requires high levels of efficiency and skill at the best of times, it's undeniable that the manufacturing, distribution, and support of COVID-19 vaccines can serve as a good example of the role contact centers play in medical information and safety, especially in a pandemic. As the vaccines have rolled out, it's been a priority for pharma companies to find ways to learn about adverse events and quality issues and deal with them both proactively and at the speed of crisis.
Patient Support & Adherence
We've already mentioned patient adherence and that's another area where global life sciences contact centers play an important role. By creating contact centers that combine human expertise with automation and artificial intelligence, we can provide patients with the support they need.
The key here is understanding that contact centers can use technology and systems that drive efficiency, but they must have an equal focus on the human side of the equation – compassion, personalization, and ease. For example, minimizing patient wait times and meeting patients where they are – both in terms of the platforms they prefer to use, self-service delivered to them in the language they speak, and using workflows that feel natural to them – can improve support and adherence at the same time.
The Role of Artificial Intelligence in Global Contact Centers
As we look to the global contact centers of the future, we see an expanding role for artificial intelligence. Adding a virtual assistant to a contact center can enhance agent performance and create an optimal customer journey.
Contact Center Statistics
Life sciences companies own 11% of all global contact centers. The key to employing artificial intelligence is understanding where it can make the most impact. A look at some relevant statistics may be useful.
56% of contact centers plan to invest in AI in the future, while 33% have plans to invest in process automation and robotics.

63% of consumers said live chat was the easiest support channel to use.

9 out of 10 people want a seamless omnichannel experience when they contact support centers.

The average CSAT score for life sciences support centers is 71.7%

. (SPOILER: Ours is 97%.)
It's clear that incorporating AI into features such as live chat can help global contact centers improve the patient journey.
How HCPs and Patients Can Use AI
AI cannot (and should not) replace human agents. While chatbots have become popular and can do a great job of handling simple requests and redirecting people to self-service options, they can't replace the expertise and compassion from human agents needed for so many patient support use cases. Instead, chatbots can handle the simple requests, reducing agent workload, and freeing them up to spend time with patients on more complex requests that require human intervention and attention.
For that reason, the first use of AI in most life sciences contact centers is to improve agent efficiency. For example, AI can suggest responses to common issues. In life sciences, chatbots or virtual agents can be used to triage incoming requests. The presence of AI behind the scenes can do a lot to create an ideal patient experience.
At Alphanumeric, our goal is to remove friction from the patient experience – and AI is a big part of that. When our client GSK came to us for help with a digital transformation of their global contact center, we delivered a seamless omnichannel experience powered by AI. Virtual agents use natural language processing (NLP) that is mature in life sciences vernacular and supports more than 30 languages to answer repetitive questions, redirect incoming requests to self-service when it's appropriate, and give human agents time back to dedicate to higher-value initiatives.
Another use of AI is to save time for HCPs who need to quickly find accurate information to treat their patients. We created Alphanumeric Smart Search to unify knowledge sources, standardize replies to common queries, and deliver near real-time accurate information to transform the HCP experience. This played a critical role, especially during the time of COVID-19 when HCPs were stretched thinner than ever before.
In both cases, our goal of removing friction is the focus. By using AI in our life sciences global contact centers, we help our clients improve patient and HCP experiences, which has an impact on adherence, which has an impact on patient outcomes. Not many are viewing the life sciences global contact center in this way; that's why Alphanumeric is fast becoming known as the leader in HCP and patient experience innovation.
Creating the Contact Center of the Future
In the face of the pandemic, today's life sciences contact centers have already changed, but we know that more change will be necessary to realize this vision of the global contact center becoming a hub for patient support and adherence and a vehicle to help drive both positive patient outcomes and brand loyalty.
The Role of Digital Transformation
For companies in the life sciences sector, the time to embrace digital transformation is now. While the role of global contact centers was already changing due to consumer mindsets, emerging technology, and evolving patient and HCP needs, 2020 and the COVID-19 pandemic accelerated the process and added a new sense of urgency.
The pandemic required enterprises to revamp their contact centers by adopting cloud-based platforms, virtualizing work environments, and adapting support to a new customer journey that prioritized patient safety and an optimal user experience more than ever before. They also had to balance the need for transformation with financial considerations in both the short and long term.
Contact Center Trends
With digital transformation and AI top of mind, let's review some of the contact center trends that point the way toward the contact center of the future.
#1 Omnichannel Support
Omni-channel support is something we've already mentioned. It means meeting patients where they are – even if where they are is someplace unexpected. The consumer (and HCP) footprint is everywhere and it's simply not possible for human agents to keep up – and that's where AI enters the picture. A case in point: One of our life sciences customers has been monitoring TikTok for adverse events and quality control issues related to its COVID-19 vaccine. Human agents are responsible for monitoring now but we expect AI to be used in that capacity in the future.
#2 Efficiency
Productivity requires efficiency in multiple areas. Building the contact center of the future will require efficiency that is driven by a careful combination of skill, training, automation, and human intervention. First, hiring people skilled in both healthcare and customer service is key. Then, you'll need innovative models to train these dynamic agents who are subject matter experts to stay on top of the ever-changing landscape around them. Finally, you'll want to incorporate intelligent automation to take care of the simple and repetitive, freeing up human agents to provide in-depth support.
#3 Transparency
Transparency, accuracy, and speed are priorities for HCPs. It's important HCPs get access to accurate information required to support their patients. Alphanumeric automates this process with our HCP virtual assistant, Alphanumeric Smart Search. Because the service HCPs are providing to patients is so critical, clearly articulating the steps used to validate and reassure that the right data is served up is equally critical. This equips HCPs to provide an answer to their patient that is rooted in science and professionalism via a secure, omnichannel self-service portal they have confidence in. Then, giving them access to this data instantly without requiring them to call a contact center is a game changer for HCPs who are overstretched (which is almost all of them). This combination of transparency, accuracy, and speed for HCPs is the future.
#4 Personalization
Personalization in support might seem like an abstract concept, but it's one of the biggest trends we see for the global contact center of tomorrow. That means responding to customer needs instantly in real time wherever the customer is. It's also about tailoring offers and services to the people who contact you as part of a full omnichannel, dynamic experience. We see a future where predictive analytics and AI help life sciences companies stay ahead of the curve on new customer preferences and needs while creating a frictionless experience that makes support as efficient and compassionate as possible.
#5 Self-service
Self-service is increasingly important in customer support in every sector and life sciences are no exception. Investing in self-service is an ongoing trend because it can have a positive impact on both user experience and the optimization of the business. While traditional self-service might have meant pointing a patient or HCP in the direction of your FAQ page, tomorrow's self-service will give consumers and HCPs the tools and information they need by using background analytics to capture behavior. Examples include SMS message support, speech analytics, and video biometrics.
#6 Systems Integration
Systems integration will be used to form a complete picture of support that's scalable on a global level. The contact centers of the future will be agnostic, so that new platforms and technology can be added seamlessly without interrupting service continuity. The trend is toward APIs that are cloud-based, universal, and agnostic. We don't know what the TikTok of tomorrow will be, but contact centers must be prepared to overlay any new channel consumers that arises which consumers are likely to turn to.
#7 Holistic Approach
A holistic approach to support will focus on creating a seamless end-to-end experience for patients and HCPs. The goal of the future will be to start with the initial conversation and manage all the way to follow through. For example, a patient with a chronic diagnosis could receive support from a pharma contact center all the way from onboarding through treatment through ongoing outbound efforts aimed to drive adherence. Likewise, patients experiencing adverse events can and should be monitored to ensure they have the support they need. Creating a holistic support experience is what we do at Alphanumeric.
We expect these trends to point the way toward a future where patients and HCPs can count on life sciences contact centers to provide them with human-centered, AI-powered support that meets them where they are – and stays with them to provide a frictionless experience.
Digital Transformation of the Patient & HCP Experience in Action
Digital transformation may seem like a tall order but it's essential for every life sciences company that wants to build a future-friendly global contact center.
The good news is that digital transformation doesn't need to take years. We built a multi-lingual clinical application service desk in just 30 days. We did it by collaborating with our client to understand mission-critical business functions and create the training solutions required to deliver them. With Interactive Voice Response (IVR) technology, incident tracking, and an interactive learning platform to accelerate training, we were able to reduce wait times, increase the first-call resolution to 60%, and deliver a 90% customer satisfaction rating. This is just one of many examples you can find on the Success Stories tab of www.alphanumeric.com.
Another example... digital transformation can take an outdated contact center and revolutionize it. When a $30 billion global healthcare company came to us for help revamping their global contact center, we helped them to do the following:
Migrate their contact center to a cloud-based call center platform
Add chat and social support for an omnichannel experience
Integrate their systems data (SalesForce CRM, Veeva Vault Medical Information)
Standardize and automate repetitive manual processes
Implement automated speech recognition
Automate outbound calling
Staff the contact center with skilled agents
Implement across five contact centers – in a matter of just months!
The future is now. While we can't predict what global contact centers will look like in the distant future, we can tell you that innovative solutions are a necessity to provide the experience that patients and HCPs demand.
The life sciences global contact centers of the future are already being created. Today's patients and HCPs expect the kind of support that's only possible when human capabilities and compassion intersect with AI and automation. By embracing the best of human compassion and knowledge with machine-driven efficiency, life sciences companies can deliver support to patients and HCPs where they are when they need it the most.
Are you ready to reimagine your patient and HCP experience? Partner with Alphanumeric to evolve your existing or create your new global contact center today.