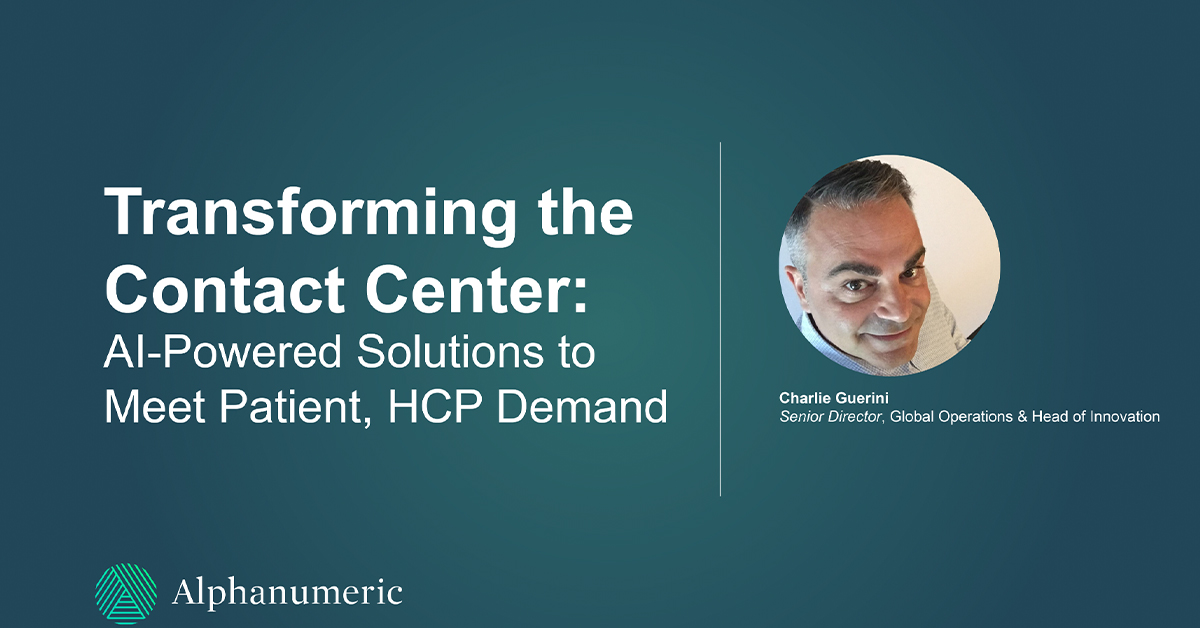 Since the onset of the COVID-19 pandemic, time and resources have been in short supply for pharmaceutical and healthcare professionals (HCPs). The World Health Organization (WHO) estimates a shortage of 4.3 million physicians, nurses, and other HCPs. That shortage is expected to grow to 18 million by 2030.1
At the same time, patient and caregiver demand for healthcare information is growing. HCPs and life sciences companies need the ability to quickly respond to patient questions and provide accurate medical information. To complicate these challenges, pandemic protocols and changing consumer habits have pushed many of these exchanges online.
The ways in which we research, prescribe, and ask questions about medication and other healthcare concerns have changed dramatically. As with banking, retail, and other daily services, we expect the ability to seamlessly transition between online and offline healthcare channels. If we are unable to visit an HCP in person, we expect the option to schedule a Telehealth appointment. If we cannot stop by our local pharmacy, we assume we will be able to order prescriptions by delivery or mail. And if we have questions about a medication, we want answers we can trust—immediately.
To meet these new demands, life sciences organizations are rethinking the way they set up and manage contact centers. Simply providing phone or even online contact options, especially in these times of significant labor shortages, isn't enough to provide adequate, instant and accurate information that patients and caregivers need. Instead, a digital transformation of the contact center enables organizations to offer self-service and automated solutions that reach and engage patients where and when needed. As part of this transformation, artificial intelligence (AI) plays a major role, enabling enhanced responsiveness while helping companies improve performance and manage costs.
1. https://www.who.int/health-topics/health-workforce#tab=tab_1
Digital Transformation in the Contact Center
Digital transformation of business and other systems has received plenty of attention over the past several years. But what does it mean for contact centers?
By integrating AI, Machine Learning (ML), and Natural Language Processing (NLP) with existing medical and pharmaceutical data resources and content and sales management systems, contact centers can respond to urgent patient needs while reducing strain on agents and HCPs. AI and ML enable contact center systems to identify and learn from data patterns and respond appropriately and accurately, without human intervention. NLP helps to make these interactions more natural and engaging, as well as enabling multilingual services.
Digitally transformed contact center systems also incorporate a variety of other technologies to enable the automation of reporting and repetitive tasks, analysis of growing bodies of data, classification of images as well as text, and more.
Together, these technologies automate a variety of contact center capabilities:
Chatbots that respond quickly to patient inquiries, directing patients to the right resources in real-time – intuitive and conversational AI – our chatbots understand life science lexicons. They've been learning for over 15 years.
Automated search tools that return highly relevant results using NLU – Natural Language Understanding
Virtual assistants that help customer representatives and HCPs navigate vast quantities of data to find accurate answers—fast
Email deflection tools that respond to patient messages and enable greater self-service
Data collection and analysis that improve decision-making, enhance customer insights, and accelerate the introduction of new products and services
AI algorithms enable contact center software solutions to complete many repetitive or time-consuming tasks, automatically and without human intervention. This frees representatives and HCPs to turn their focus to more complex or difficult cases.
These AI-driven tools shine in tasks involving response and research. For example, AI-powered chatbots and email deflectors can enable faster acknowledgment of incoming requests for information. Automated search tools and virtual assistants with integrated NLP can index vast amounts of data and support intuitive search functions. As a result, they can respond fluidly to questions written in standard human languages, and then rapidly provide accurate answers.
These answers are relevant 70% to 80% of the time, preventing the need for an additional search or human intervention. Software that supports robust connectors can provide extensive access to vast amounts of data in existing knowledge bases. Advanced solutions offer options to specify custom terminology. And the use of ML to continuously analyze and fine-tune results can increase accuracy over time.
Not only do these technologies enable speedy, automated responsiveness to patient questions. They can also boost the effectiveness of representatives or HCPs by helping them navigate large quantities of data during interactions that do require the human touch. Advanced knowledge engines can transparently surface and validate meaningful answers from multiple sources, saving valuable time and consistently returning accurate results.
Well-designed solutions do more than simply locate content. They provide contact center representatives with a real-time view of content, scripts—and performance. AI-powered digital transformation enables life science organizations to measure engagement and performance, based on key performance indicators (KPIs). This enables organizations to both better serve customers, reduce the burden on valuable human resources, and accurately measure the ROI of the solution.
The Benefits of AI-Driven Solutions
AI-powered applications save time and money, enable smarter and more responsive customer service, increase the efficiency of contact center management, and generate actionable insights that facilitate decision-making.
Imagine the expanded capabilities that digital transformation of the call center enables:
Quick reference of training material

Interactive voice response (IVR)

Development of FAQs to answer the most common patient questions or to provide faster responses to HCP inquiries

More effective contact forms

More accurate search results

Centralization of knowledge

Extensive support for multiple languages

More robust analysis of customer needs and behaviors

Greater scalability

Hybrid model where AI technology works hand in and with proactive human intervention at all times so we can have the ultimate, seamless customer experience.
The benefits are clear:
Agents are better able to solve customer queries and provide targeted recommendations.

Patients and HCPs expend less effort locating the information they need.

Responses are often instant and are available whenever

The customer journey is smoother and more consistent; the quality of service increases.

Agent workload is reduced, freeing them to focus on more challenging tasks.

Customer service queues and handling times are reduced, an event during busy times or emergencies.

ROI is achieved more quickly, and integration costs are reduced.

Customer response can be more accurately measured.

Call center solutions can easily be scaled to simultaneously engage with hundreds of users, in multiple languages, across the channels they prefer, including websites, social media, chat, or email.
Meeting Modern Demands
We've reached a tipping point. Reducing the strain on contact center staff is no longer just a good idea—it's a necessity. Immediate, around-the-clock access to accurate medical data is, too. To remain competitive, life sciences organizations must streamline workflows and provide consistent and personalized contact experiences across multiple digital channels.
Digital transformation of the contact center enables organizations to deliver a seamless experience that reflects individual customer tastes, habits, and communication patterns. AI technologies, powered by NLP and ML, help to increase the efficacy of self-service help centers, FAQs, forms, searches, and contact center staff.
Snapshots of Success
These benefits are not just theoretical. At Alphanumeric, we witness the transformative results of AI-powered solutions:
Average deflection rates: 71%
Average accuracy rates: 86%
Average search speed: 1.3 seconds
Average accuracy rates: 86%
Consider one $30-billion global healthcare/pharmaceutical company that decided to modernize its 20-year-old contact center. A reliance on manual processes, coupled with an aging infrastructure, was negatively affecting reliability—posing a real business risk.
Alphanumeric led the design, implementation, and management of a modernized, digital call center platform. Our solution featured automated outbound calling, chat and social channels, automated speech recognition, virtual hold, voicemail routing, and self-service options. As part of this transformation, the company also implemented standardized processes and data integration across five contact centers, increasing speed and enabling a scalable, reusable workflow. The results transformed the contact centers from cost sinks to revenue generators.
Automated outbound calling helped to secure product revenue of more than $9 million by reducing average annual staffing costs to just $110,000. The company experienced a 75% reduction in downtime, reducing the number of lost calls and preventing potential revenue losses of more than $1 million. Call volume increased by 40%, and customer dissatisfaction rates were halved. Automated speech recognition improved the accuracy and speed of more than 100,000 calls per year and enabled fully self-service directory assistance.
Another top-10 ranked global pharmaceutical and healthcare company was able to overcome service-level challenges that threatened its business. This company supports 20 applications and provides customer service and training for analysts in 14 languages.
In just 30 days, Alphanumeric worked with the company to build a tailored, multilingual Level 1 service desk and training solution. State-of-the-art IVR, incident tracking, and best practices for effectively managing Level 1 and Level 2 escalation supported continuous learning and improvement. The platform also featured 200 mock calls for use in analyst training.
As a result, the company was able to achieve zero downtime, minimize call wait times, and increase first-time call resolution to 60%. Ninety percent of respondents provided positive customer satisfaction ratings. The project was so successful that the company scaled the solution to include Level 2 calls and a sales support service desk.
Looking Forward to the Next Evolution
Technology continues to evolve, and the use of digital channels in the life sciences continues to expand. Digital transformation now not only enables life sciences companies to meet current demand and weather current challenges. It also positions you to take advantage of emerging capabilities and technological advances, including:
Predictive behavior routing, which collects customer personality profiles on contact to better match customers and agents
Security enhancements such as voice authentication, which enhances the customer experience by streamlining the verification process
Advanced real-time analytics to help agents confirm identity and escalate calls as needed
Omnichannel solutions that enable seamlessness from one channel to another
Augmented reality and digital assistant support
Cloud-based contact centers that support a global workforce and clientele
AI chatbots that enable more extensive text-based support
AI-powered workforce management
Digital transformation, powered by AI technologies, enables faster, more accurate decision-making, greater workforce efficiency, and more effective customer service. A data-driven contact center environment provides a significant competitive advantage today and a structural competitive advantage for the future.
Are you ready to transform your patient and HCP experience? Connect with Alphanumeric today.