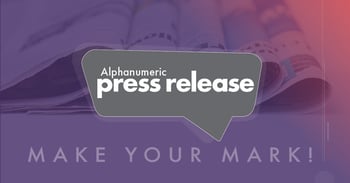 Raleigh, North Carolina - Alphanumeric Systems Inc is excited to announce the launch of their new website: alphanumeric.com, a refreshed and innovative approach for sharing the Alphanumeric Systems Inc story that will serve as a knowledge hub for all Alphanumeric Systems Inc services and the new Make Your Mark campaign. The official launch date for the new website is July 11.
Alphanumeric Systems Inc believes the new website and Make Your Mark campaign will be part of the next chapter in the company's history.
Some of the highlights of our new site include:
A streamlined experience that makes it easier to find the information you need
New features and functionality that will help us better serve our partners and customers
A refreshed look and feel that reflects our commitment to providing a superior customer experience
We want to thank our partners and customers for their continued support. We also want to let them know that we are committed to providing a superior customer experience. Our new website is just one example of that commitment.
"We're looking to engage our target audiences with a fresh new website design and evolve our exciting Make Your Mark campaign." Dana Spector, Marketing Coordinator at Alphanumeric Systems Inc.
If you have any questions or need assistance finding something on our new site, please don't hesitate to contact us.
Alphanumeric Systems Inc provides contact center, digital transformation, and technical services support to our partners that increase their customer engagement, and overall satisfaction, and build a more aware, empowered, and engaged customer.
###