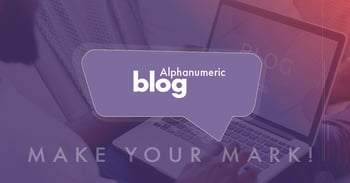 Part of our Meet the Team Series, we're spotlighting a woman who helps keep things organized at Alphanumeric. Honestly, we're not sure we could make it to Friday without her. She's updated the breakroom in the NC office, and more. Meet Shannon Lucas.
Q. What is your job title?
A. Executive Assistant
Q. What has been your favorite part of working at Alphanumeric?
A. The people! I have loved getting to meet the other members of Team Alpha and finding ways that I can help them in whatever way I can.
Q. In what ways have you been able to grow since joining Team Alpha?
A. I had the opportunity to help the HR team in Canada during tax season. It was a lot of fun learning how to fill out tax declaration forms, and even trying to read some French!
Q. Have you done any special projects since joining the Alpha Team?
A. Ellyn Taylor, James Taylor, my sons, and I spent a day repainting the breakroom. We wanted to make it a more welcoming place for all Alpha Team members. It has become one of my pet projects. Everyone should have a place to relax and unwind while they are on their lunch break!
Q. If you could make one change to your job, what would it be?
A. I would love to have the opportunity to meet each member of the team in person. It is always interesting when someone I have been talking with via email or Teams comes into the office, but I have not been able to put a face with the name. I know the person from their voice or speech pattern, which does help.
Q. How do you like to decompress when you are not working?
A. I love playing video games with my family (my husband and our 2 sons), traveling, and playing with our dog (Lilith)
Q. If you could visit one place in the world, where would it be and why?
A. I would love to go to Germany. I was born in Frankfurt, Germany, but my dad was stationed in Missouri by my 2nd birthday, so sadly, I do not remember anything. My dad's side of the family is also from Germany, and I would love the chance to walk the steps that my family did years ago.
Q. Have you met anyone famous?
A. When I graduated from the Air Force Academy, former President George W. Bush gave me a hug and my graduation plaque.
Q. When you were a kid, what did you want to be when you grew up?
A. When I grew up I wanted to be in the military, just like my dad. In 2004, I did end up commissioning in the U.S. Air Force after graduating from the U.S. Air Force Academy, but I did not stay in the military as long as I thought I would. However, I have my 2 sons and I wouldn't have had them if I stayed in!
Q. What's your favorite season?
A. Winter! I love the cold weather (I spent most of my life in Colorado). I think the snow is beautiful and peaceful. I love to cuddle up on the couch under a soft, warm blanket with my family, drinking hot coffee, and watching the snowfall. There is nothing better than big hoodies, fuzzy socks, warm blankets, and a hot drink in hand!
Connect with us on social media to see more about the amazing Team Alpha!